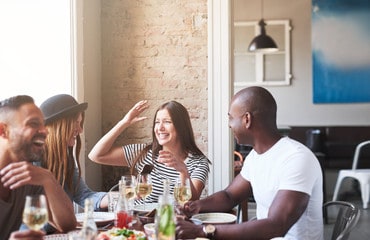 Let's get personal – part 2
People that tell great stories capture our imagination. They are fun to be around. I want one or two of these people at every party I throw.
Companies, also need to be able to tell a great story. If they can't, they are perceived as lackluster; nice people maybe, but not memorable.
Companies that are memorable tell a clear, descriptive story. A story that enlightens you about what makes them unique and beneficial.  If their story is captivating it also defends them from their competitors. They are like that unique person we all have met in life. Nobody else is like them. They are memorable, distinctive and real. You want to hang out with them. You want to preserve your relationship. You put them on a pedestal. You trust them! You go out of our way to be with them. You'll give more to be with them, too – more of your time, attention and money. A great company is no different. You want them… and you'll pay more for them.
Back to the power of story – Yes, it's hard to do. Companies tend to look at each other, try to be like each other and therefore tell uninspired stories. They tell us how long they've been in business. It's our 2nd anniversary!  We're opening 5 new stores in Boston! –Are they talking to me or to their competition? Sounds like the boasting bravado of a guy you meet at a party. This isn't the guy you want to hang with.
But, if  your story is good; one that paints a vivid picture without too many things going on that create confusion, then you are on your way to building an exceptional brand. To create an exceptional brand, look no further than the people around you. Think of those that are most genuine. Now strive to create a more genuine company brand. The same rules apply to both.
If you're ready to commit to improving your personal or company brand, call us. We won't ask you questions about how many degrees you have or how many years you've been in business. We will ask about what makes you valuable to the world around you and begin crafting your memorable story for your audience to hear.