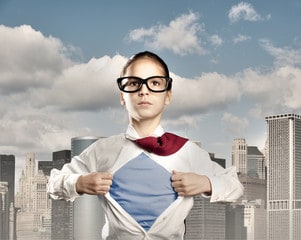 When we think of power we think big; big companies, big technologies, big budgets, C-suite execs with big salaries. That is power, right?
Maybe not. Our experience has us questioning this notion. NK&A is a marketing firm. We help our clients solve problems and build memorable brands. We've written strategies, positioning's, and vision and mission statements galore. We've listened to execs pontificate about the strengths of their companies and how they are the best in class. And we know that customer experience can validate these strengths or prove them to be just words without substance. The best brands walk the talk and deliver. Large companies can do this and small companies can do this, too. We all can name our favorite large business and small business, too, and expound on why they are exceptional.
What we have discovered is quite simple. People's perceptions of a brand are based on many factors but perhaps the most powerful of all is the people, and most importantly the last person you interacted with. We have all experienced this. Take a simple transaction like buying a cup of coffee at your local café. If the person who serves you is surly you're going to feel pretty lukewarm about your coffee and the brand. If they are pleasant and truly care about you, you'll feel good about the coffee and the brand. You'll look forward to seeing them. That one person holds a lot of power in defining your perception of the brand. Big companies are the same way. Yesterday I went to Midas for a new muffler and brakes. I've been to Midas in several states up and down the east coast. I have been to one of the Boston location 6 times, where 2 different people served me. One was dreadful – rude and impersonal. The other was a guy named, Tim. Tim has served me 5 times. He is honest, personal, listens intently and does exactly what he says he'll do. I have learned the importance of the person representing the brand. If it's not Tim, I don't do business with Midas. Tim is the best the brand can offer.
People are emotional creatures. The best brands don't just deliver products and services, they deliver them in a way that makes you feel good. You like them….and you like the brand!
I was working for a Fortune 100 company and we were looking to hire a top notch branding firm to help grow our business. We looked at many firms, narrowing it to two. Both were experienced. One was the biggest in the world, headquartered in NYC, the other was smaller, in the top five in Boston. The NYC sales team was sharp. The Boston firm was not as sharp but very good. The last step in the decision making process was to meet with the brand teams – those we would be interacting with going forward. The world's largest provided us with a young team. They were impressive but also had a lot of attitude and not a lot of experience. The Boston team was also impressive, with experience, and far less cocky. We hired the Boston firm. The people we interacted with at this last stage defined our perception of the brand. They made the decision for us. They were the brand. We did great work together and never looked back.
Today we live in a tech driven world. But, be it high tech or no tech the business world is not as different as we believe it to be. Business is still about relationships and the emotions we have towards those we do business with. If we emotionally feel good about those we do business with and they deliver on what is agreed to, we like them! The behavior of the people we interact with, have the POWER to define the brand. What brands do you like? If you have any stories of exceptional people who define stellar brands let us know.