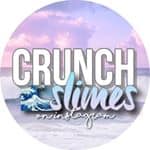 What makes a successful Instagram account? It's unbelievable
If I told you what has led to 13-year-old Min Feldman's amazing success on Instagram (IG), you would not believe me. And when Min started, she had no idea it would be such a hit. Min has hit a cord that resonates with millions (ok ½ million, all of whom follow Min's posts religiously).
Min will tell you she unintentionally fell into her online success.  In the summer of 2016 (barely a year ago), she started the account for herself because she had a passion for slime.  Embarrassed by her predilection for watching people play with slime that makes crisp popping noises, she did not tell her family nor her friends.  Soon she started reposting her collection on her IG account: @crunchslimes.
Always with slime or silly putty in arm's reach, Min finds it soothing visually and auditorily.  And apparently so do many others.  Flooded with comments and DM (direct messages), Min is told over and over that her site delights, sooths and comforts young and old alike. Not only does her middle school peer set follow her, but so do their parents and siblings.
@Crunchslimes' growth is 100% organic.  There are two principles that fueled its traction: Min's passion for crunchy slimes and her listening skills.  She has posted what tantalizes her and she responds with kindness and interest to her followers. This was the foundation of her initial traction.  Being featured on IG's Explorers page created spikes in followers as did the introduction of simple questions that can be answered with one word: "what is your favorite drink at Starbucks?" "Do you like cats or dogs?" "What is stressing you out today?"  Posting two times a day based on when her followers are most active, Min lobs out questions that are inspired by her surroundings.  If she has returned from sports practice she might ask "Sports or coach surfing?" and on average she gets 400 comments per post.
Managing the account is routine for her now. Limiting herself to 30 minutes a day, she spends 15 min looking at other's accounts and curating future content.  She saves videos that are tagged with #crunchslimesnotice and puts them in a queue.  And she spend the other 15 minutes making her daily posts.
What amazes Min the most is the diversity of people who follow her and how all these different people are brought together by their shared passion for crunchy slime videos.  With over a half million followers and growing daily, Min confesses that on the weekends she expends "quite a bit more time" responding to all her direct messages.  She tries to respond to them all and help those who are aiming for her level of success.
When you ask Min what is next, she will tell you she has a novel in her.  An articulate and "wise beyond her years" writer, Min has started @crunchywords on IG to share her writing. She already has 3 short novels she has edited and has in a form she is proud of. With over 4,000 followers on her writing account she is sure to be on Amazon soon.
Check out Min on Instagram @crunchslimes. If you don't have an IG account you can check out her feed here.